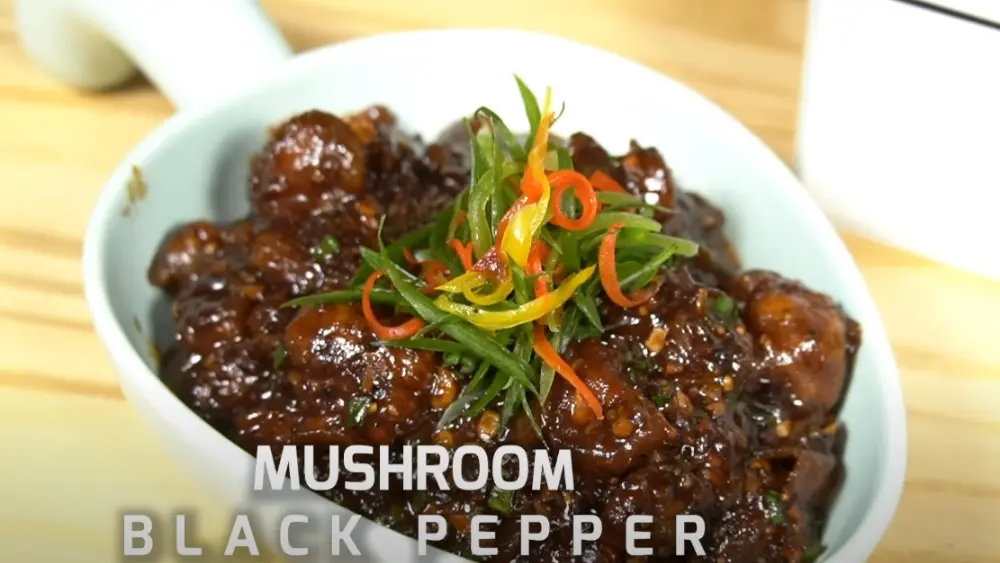 Black Pepper Mushroom Recipe

20 min

2-3 People

10 min
INGREDIENTS
---
Mushrooms – 1 cup
Salt – as per taste
Crushed pepper – 1 tsp
Dark soy sauce – 1 tsp
Chopped garlic – 1 tsp
White vinegar – 1 tsp
Corn flour – 1 cup
Oil for deep frying
Oil – 2 tsp
Chopped garlic – 3 tsp
Chopped onion – ½ cup
Ginger chopped – 2 tsp
Green chillies chopped – 1 tsp
Black pepper crushed – 1 tbsp
Water – 1 cup
Light soy – 1 tsp
Dark soy – 1 tsp
Chili sauce – 1 tsp
White vinegar – 1 tsp
Oyster sauce – 1 tsp
Corn flour for slurry
Sugar – 1 tsp
Method:
Cut mushrooms into quarter, add salt, crushed pepper, dark soy sauce, vinegar and chopped garlic for seasoning the mushrooms.
Dust mushroom with corn flour and few sprinkles of water to coat the flour nicely.
Heat oil in a wok, deep fry the mushrooms till crisp Separately heat oil in a wok, add chopped garlic, and onion till golden brown.
Add green chillies chopped, add crushed black pepper roast for a while and add a cup of water and reduce Mix in all the sauces together and bring it to the boil.
Add little water to adjust the consistency, bring it to the boil add corn flour to thicken the sauce, add sugar and crispy fried mushroom with a sprinkle of crushed black pepper
Serve immediately.
---