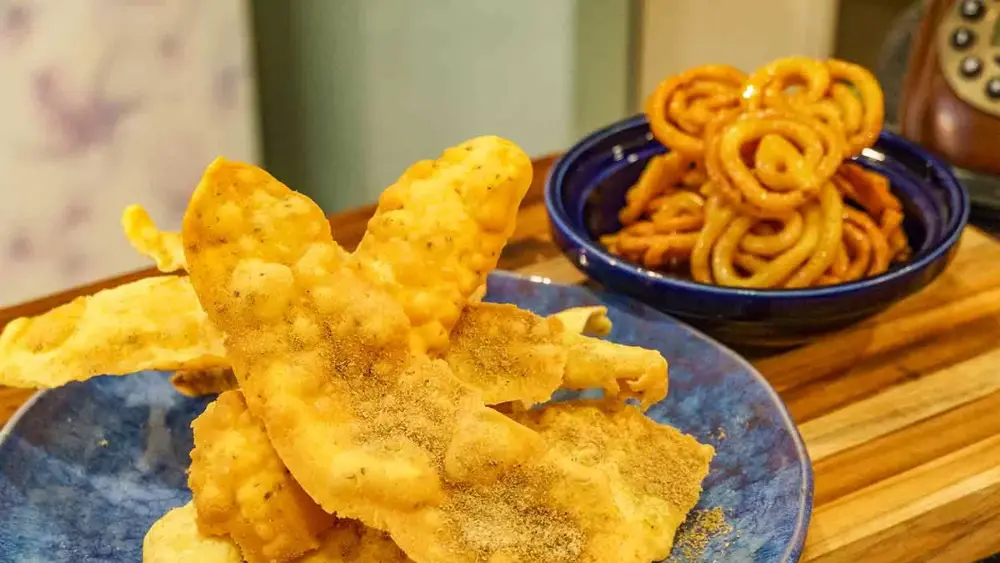 Jalebi Fafda Recipe

20 min

2-3 People

20 min
Jalebi Fafda 
---
Ingredients
For Fafda
1cup gram flour
½ tsp carom seeds
To taste salt
½ tsp alkaline salt
2 tbsp oil
1 cup water
Oil for frying
For spice mix
1 tsp cumin seeds
1 tsp coriander seeds
½ tsp hing
10-15 black pepper
½ tsp carrom seed
For sugar syrup
2 cup sugar
1 cup water
A pinch saffron
For jalebi
1 cup maida
1 tsp ghee
¼ cup eno and water mixture
Oil for frying
Method to make Jalebi Fafda
For fafda
In a bowl add some gram flour, ajwain, some salt to taste, alkaline salt (papad Khar), some oil, and water now mix everything and knead the dough, and let it rest for 15-20 mins. Make sure you do not make the dough very soft or very tight.
Apply some oil on the dough then using your pam flatten a small portion of the dough and make the fafda and fry it in oil.
Once done remove it on a plate and drain the excess oil with tissue and then sprinkle the all-spices masala over it.
For spice mix
Now take another pan and add some Cumin seeds, some coriander seed, Hing, some black pepper, and carrom seed and roast everything in a hot pan.
Before grinding it add some rice flour and black salt now grind and make a smooth powder.
All spices mixes readily
For sugar syrup
In a pot Take 1 cup sugar and 1 cup water add a pinch of saffron and cook for a while.
Make sure to stir sugar and water while cooking.
After melting the sugar syrup is ready.
For jalebi
In a bowl add some maida, some ghee, and knead the flour using your fingers to make it a nice batter and not a dough.
Now mix some more water and Eno and pour it in the batter and mix it well.
Make sure the batter is not very thick or thin it has to be a little flowy to make the jalebis.
Now add the batter into a squeeze bottle or a zip lock bag or a piping bag and then slit the end to squeeze the batter into the oil.
In medium flame heat the oil and squeeze the batter into it and fry the jalebi and after frying put it into the sugar syrup. 
For Garnish
In a serving plate take fafda garnish allspice we are made and enjoy with jalebi.

---